My style is a blend of photojournalism, lifestyle, and editorial. I aim to capture the big moments, the details, and all the beautiful in between stuff that helps tell the story of the day. I'm in love with candids and black and white photography. I'm always looking for the prettiest light. I hope to capture the moments that will have you smiling, laughing, and crying happy tears as you look through your album for the first time (and every time!).
WEDDING DAY COVERAGE
We want to capture your complete wedding day story -from getting ready to the I Do's to dancing the night away with all your favorite people. Add a second photographer to capture twice the memories. Inquire for custom quotes on elopements and smaller weddings.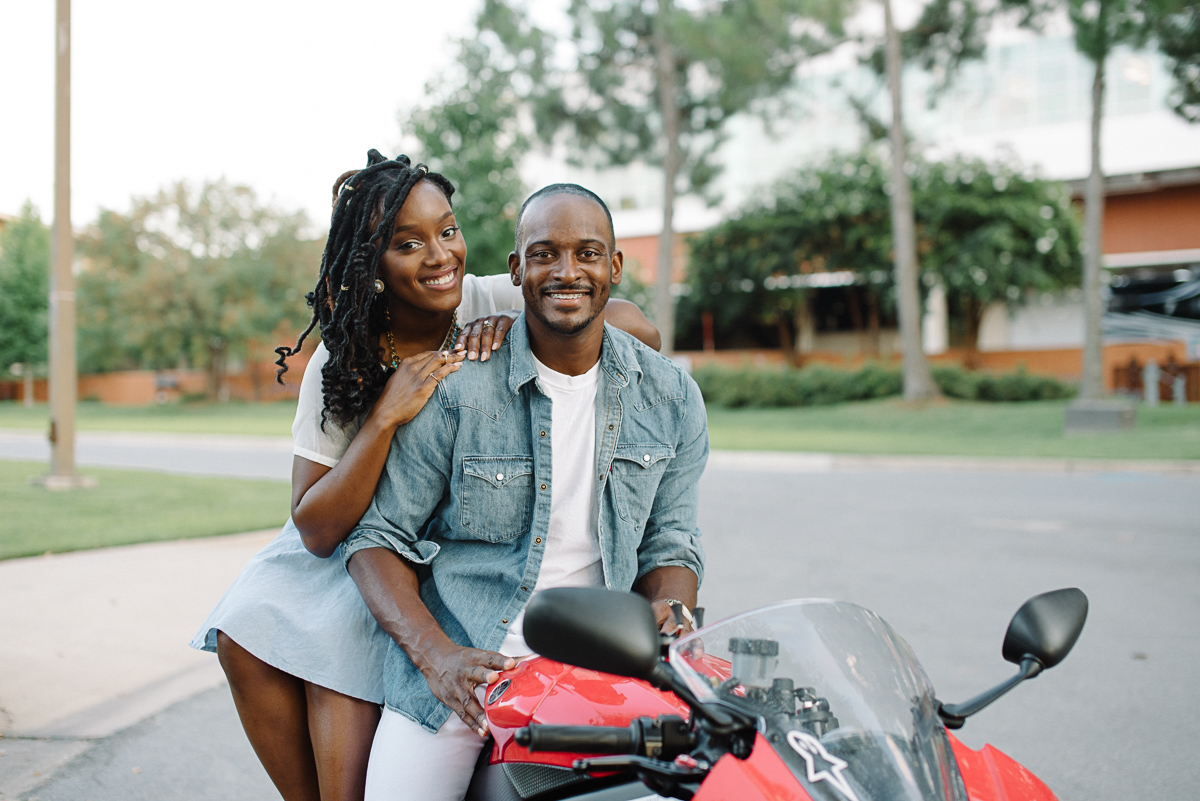 ENGAGEMENT SESSIONS
Maybe you're the kind of couple who take selfies a lot & has snapshots all around the house or maybe you rarely take photos at all. You will love having these portraits from this lovey-dovey 'bout to marry your sweetheart time in your life. Engagement sessions should be fun, laid back, and have a touch of romance!
It'll also give us a chance to hang out & get comfortable in front of the camera before the wedding day. Win-win. We can capture those real moments that reflect you as a couple. We can go to the place you first met, where you proposed, or where you guys love to hang out. Let's find a place that is personal and meaningful to you! I'd love to hear your ideas and I'm happy to offer suggestions, too.
All collections include an engagement session. Want to swap it for a different kind of session? No problem. We do custom collections all the time.
BRIDAL PORTRAIT SESSION
Many wedding venues will allow a bridal session at no additional cost. This can be great but, don't feel limited to that one spot if you want a different look/feel for your bridals. Whether your style is modern, vintage, or all your own we will capture all the beautiful details of your wedding day attire. Schedule your hair & makeup trial run on the same day to get pampered and see how your look photographs. Schedule your bridal session well in advance of the wedding & you'll have plenty of time to make any alterations.
We will take some bridal portraits on the wedding day but, keep in mind that we will be on a schedule. An additional bridal session is great so you can take your time & see how your look comes together.
FAMILY HEIRLOOMS
I'm passionate about preserving your memories in print - a disc in a drawer in no way compares to the joy of having your portraits on display. Not to mention that one day your grandkids will love seeing you all dressed up and young and in love! All wedding collections include a set of heirloom prints.
When your images are ready to be viewed, we will schedule your ordering appointment where you can select your favorite images to be printed or approve your album design. You may purchase gift prints, wall art, and other print products at this time.
In addition to your included prints, each wedding collection includes a custom USB. I'll be there to help you through the ordering process, including sizing and custom wall art layouts (using your actual walls for a perfect fit). The average client will spend anywhere from $400 to $1,200 on average in additional print products and gifts.
Albums purchased a la carte or included in a collection come with a complimentary pre-design. These feature customizable wrap-around covers, thick lay-flat pages, and panorama spreads. Your portraits are mounted flush to 1/16" board for a solid feel and a luxe look. Check out the video below to see one of these beautiful heirloom albums in action! Various size options for parent albums & to fit a range of budgets.
THE EXPERIENCE
Your wedding day should be as stress free as possible so you can enjoy it. My team and I are here to help you plan your photography timeline so you can sit back and enjoy time with your loved ones.
If you decide you love my work and think we'd be a good fit, we can meet over coffee (or Skype) to discuss your wedding day plans, answer any questions, and figure out which wedding collection would work best for you! I'll bring sample albums and print boxes for you to look through. I know that planning a wedding can be a huge undertaking -even the "small" ones! I'm here throughout the process to help you plan an awesome wedding day photography timeline so you can focus on what matters most. Full coverage wedding collections starting at $2,250. Elopements and custom collections are also available.